Main content starts here, tab to start navigating
menus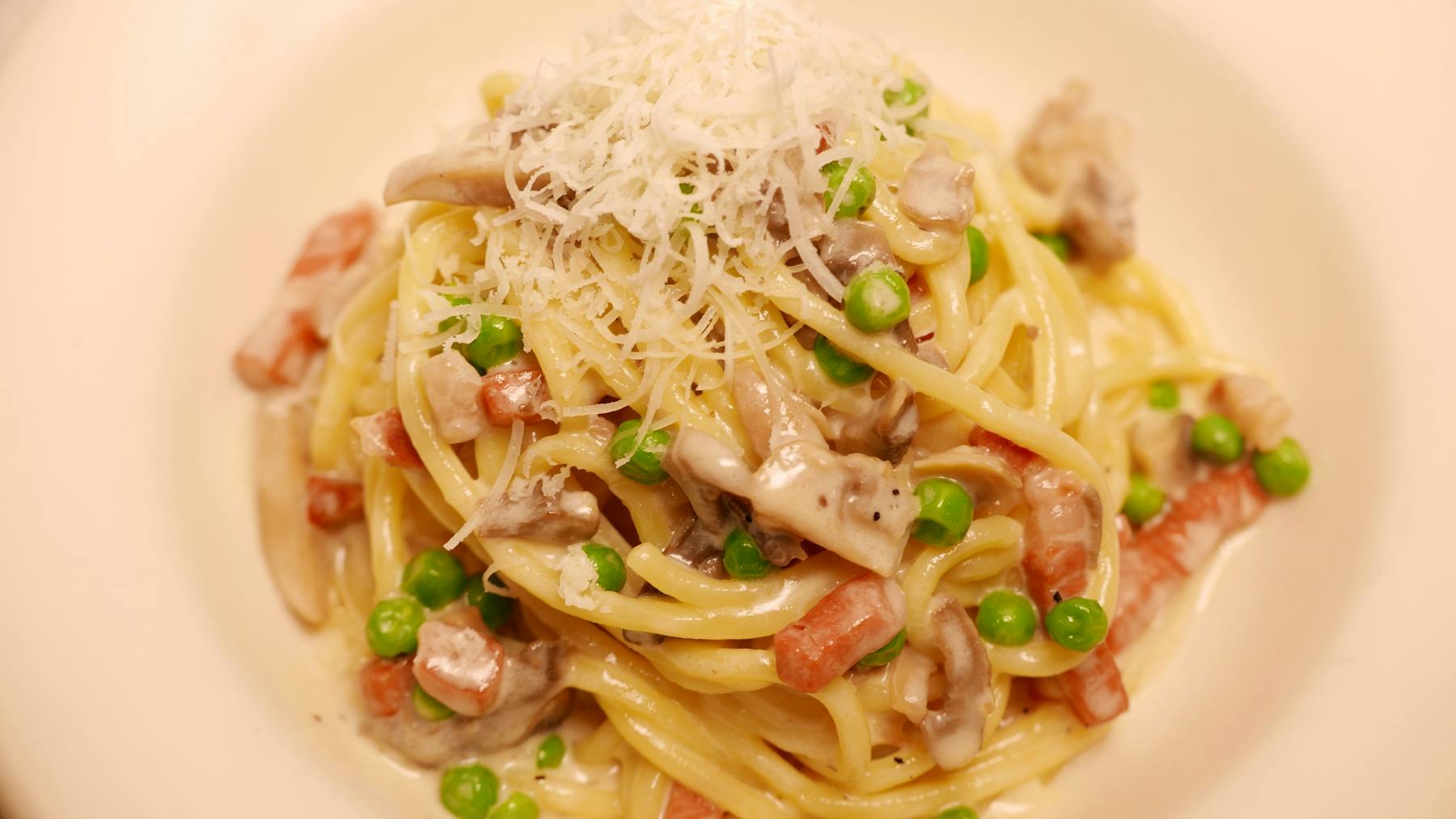 Only served on Saturdays
Pranzo
Pizza Napoletana

Pizza served for lunch Saturday and Sunday Only | Each pizza is made by hand and baked solely with wood fire at 800 degrees. Pizzas are served directly from oven when they are ready

Originale

bufala mozzarella, fresh basil, Pecorino - Romano cheese, Italian tomato and extra virgin olive oil

$20

Margherita

bufala mozzarella, grape tomato, fresh basil, Pecorino – Romano, Italian tomato and extra virgin olive oil

$21

Burrata

fresh burrata, Italian tomato, basil and extra virgin olive oil

$21

Funghi Bianco

cremini mushrooms, bufala mozzarella, robiola, sweet crispy onion

$21

Arugula e Prosciutto

arugula, Prosciutto di Parma, bufala mozzarella, grape tomato, garlic, Pecorino – Romano and extra virgin olive oil

$21

Soppresata

bufala mozzarella, Italian tomato, hot soppresata

$21

Carbonara

imported smoked Italian pancetta, sweet onions, bufala mozzarella, ricotta, Romano cheese and sunny side up eggs

$21

Salsiccia

Italian sausage, bufala mozzarella, sweet peppers, onions and Italian tomato

$21

Marinara

"tomato pie" with San Marzano tomatoes, Sicilian olive oil and oregano

$16.50
Insalate
Cacio e Pepe

little gem lettuce, fried capers, Grana Padana, bread crumbs and Undici Caesar dressing

$17.50

Misticanza

mixed baby greens, carrot, watermelon radish, oven dried tomato, red onion, olive oil and Chianti wine vinegar

$17.50

Pomodoro Grigliata

grilled East Coast tomato, red onion, bufala mozzarella

$17.50

Barbabietole

fresh roasted yellow & red baby beets, arugula, red onions, extra virgin olive oil, red wine vinegar, Coach Farms goat cheese

$17.50

Insalata Estiva

local summer vegetables and herbs, Nuovo olive oil, red wine vinegar

$17.50
Antipasti
Polpo

char grilled octopus, avocado, pickled onion, almonds, Calabrese pepper

$20

Arancini

risotto balls, saffron, peas, bufala mozzarella, tomato sauce

$18

Prosciutto e Melone

18 month aged Prosciutto di Parma and seasonal melon

$17.50

Misto

Prosciutto di Parma, Genoa salami, Bresaola, Cacciatorini, finocchiona, hot schiacciata, Grana Padana, roasted almonds, Italian olives (serves 1 to 4)

$23

Formaggi Assortiti

Pecorino Chianti Brillo – Piave Vecchio – Gorgonzola Piccante – Robiola Bosina – Grana Padana served with wildflower honey, amarena cherries, peach marmalade, local blackberry marmalade and candied orange (for two)

$22
Panini
Uno

bresaola, goat cheese, arugula, beefsteak tomato, then pressed on focaccia bread

$16.50

Due

Italian sweet sausage, spinach, roasted garlic and extra virgin olive oil, then pressed on focaccia bread

$16.50

Sette

Italian tuna in olive oil, fresh arugula, hot peppers, black olive tapenade, then pressed on house made wood oven pizza bread

$16.50

Undici

grilled Bell and Evans chicken breast, fire roasted pepper, Coach Farms goat cheese, basil pesto, then pressed on focaccia bread

$16.50

Dodici

Prosciutto di Parma, hand rolled fresh mozzarella, beefsteak tomato, basil, extra virgin olive oil, then pressed on focaccia bread

$16.50

Tredici

grilled eggplant, hand-rolled fresh mozzarella, house-made roasted pepper, and pesto, then pressed on focaccia bread

$16.50
Pasta
Ravioli Melanzane

eggplant parmigiana filled ravioli, pomodoro fresca, local basil

$20

Chitarra Papalina

Prosciutto di Parma, cremini mushrooms, fresh peas, Grana Padana, cream

$20

Bucatini Amatriciana

Guanciale, tomato, white wine, onion, chili flakes, Romano cheese

$20

Rigatoni Norma

eggplant, tomato, onion, pignoli nuts, golden raisins, ricotta salata

$20

Orecchiette Rapini

broccoli rabe, Italian sausage, cannellini beans, garlic, olive oil and Pecorino Romano cheese

$20

Mafaldine Bolognese

house made mafaldine "ruffled fettuccine", slow cooked meat sauce with veal, beef, pork, and a dollop of ricotta cheese

$20

Spaghetti Calamari

Fradiavlo sauce, Castelvetrano olives

$22

Gluten Free Pasta $2 additional
Piatti
Wild King Salmone

shaved fennel, roasted pepper, cured olives, local green beans, snap peas, lemon oil

$26

Tonno

pan roasted Atlantic tuna filet, almond pesto, roasted sungold tomatoes, arugula

$26

Pollo

quattro formaggi stuffed chicken breast, white wine, tomato, zucchini chitarra

$24.50

Cacciatore

grilled center cut pork chop, Chianti wine vinegar, sweet and hot peppers, onions, tomato, capers, roasted potato

$26
Contorni
Trio Corntorni

Patate, Zucca, rapini

$15

Rapini

broccoli rabe, garlic and olive oil

$12

Zucca

wood fired local squash, zucchini, tomato

$11

Peperoni Piccanti

hot peppers, garlic and olive oil

$11

Patate al Forno

rosemary potatoes

$10
Pizza
Made by hand and baked solely with wood fire at 800 degrees. Pizzas are served directly from the oven when they are ready.
Originale

bufala mozzarella, fresh basil, Pecorino – Romano, Italian tomato and extra virgin olive oil

$20

Margherita

bufala mozzarella, grape tomato, fresh basil, Pecorino – Romano, and extra virgin olive oil

$21

Burrata

fresh burrata, Italian tomato, basil and extra virgin olive oil

$21

Funghi Bianco

cremini mushrooms, bufala mozzarella, robiola, sweet crispy onion

$21

Arugula e Prosciutto

arugula, Prosciutto di Parma, shaved provolone, grape tomato, garlic, Pecorino – Romano and extra virgin olive oil

$21

Soppressata

bufala mozzarella, Italian tomato, hot soppressata, Pecorino Romano

$21

Carbonara

imported smoked Italian pancetta, sweet onions, bufala mozzarella, ricotta, Romano cheese and sunny side up eggs

$21

Salsiccia

Italian sausage, bufala mozzarella, sweet peppers, onions and Italian tomato

$21

Marinara

"tomato pie" with San Marzano tomatoes, Sicilian olive oil and oregano

$16.50
Insalate
Cacio e Pepe

little gem lettuce, fried capers, Grana Padana, bread crumbs and Undici Caesar dressing

$17.50

Misticanza

mixed baby greens, carrot, watermelon radish, oven dried tomato, red onion, olive oil and Chianti wine vinegar

$17.50

Pomodoro Grigliata

grilled East Coast beefsteak tomato, red onion, bufala mozzarella

$17.50

Barbabietole

fresh roasted yellow & red baby beets, arugula, red onions, extra virgin olive oil, red wine vinegar, Coach Farms goat cheese

$17.50

Insalata Estiva

local summer vegetables and herbs, Nuovo olive oil, red wine vinegar

$17.50
Antipasti
Polpo

char grilled octopus, avocado, pickled onion, almonds, Calabrese pepper

$20

Arancini

risotto balls, saffron, peas, bufala mozzarella, tomato sauce

$18

Prosciutto e Melone

18 month aged Prosciutto di Parma and seasonal melon

$17.50

Misto

Prosciutto di Parma, Genoa salami, Bresaola, Cacciatorini, finocchiona, hot schiacciata, Grana Padana, roasted almonds, Italian olives (serves 1 to 4)

$23

Formaggi Assortiti

Pecorino Chianti Brillo – Piave Vecchio – Gorgonzola Piccante – Robiola Bosina – Grana Padana served with wildflower honey, amarena cherries, peach marmalade, local blackberry marmalade and candied orange (for two)

$22
Pasta
Ravioli Melanzane

eggplant parmigiana filled ravioli, pomodoro fresca, local basil

$28

Chitarra Papalina

Prosciutto di Parma, cremini mushrooms, fresh peas, Grana Padana, cream

$28.50

Bucatini Amatriciana

Guanciale, tomato, white wine, onion, chili flakes, Romano cheese

$28.50

Rigatoni Norma

eggplant, tomato, onion, pignoli nuts, golden raisins, ricotta salata

$29

Orecchiette Rapini

broccoli rabe, Italian sausage, cannellini beans, garlic, olive oil and Pecorino Romano cheese

$29

Mafaldine Bolognese

ruffled fettuccine, slow cooked with veal, beef, pork, tomato, ricotta cheese

$29

Spaghetti Calamari

Fradiavlo sauce, Castelvetrano olives, capers

$29

Gluten Free Pasta $2 additional
Piatti del Giorno
Wild King Salmone

Shaved fennel, roasted pepper, cured olives, local green beans, snap peas, lemon oil

$36

Tonno

pan roasted Atlantic tuna filet, almond pesto, roasted sungold tomatoes, arugula

$36

Pollo Ripieno

quattro formaggi stuffed chicken breast, white wine, tomato, zucchini chitarra

$33

Costata di Manzo

slow braised short rib, creamed Jersey corn, pickled long hot pepper

$37

Cacciatore

grilled center cut pork chop, Chianti wine vinegar, sweet and hot pepper, onions, tomato, capers, roasted potato

$37
Contorni
Contorni Trio

Patate, Rapini, rapini

$15

Rapini

broccoli rabe, garlic and olive oil

$12

Zucca

wood fired local squash, zucchini, tomato

$11

Peperoni Piccanti

hot peppers, garlic and olive oil

$11

Patate al Forno

rosemary potatoes

$10
Antipasti
Zuppa

$10

Quinoa Meatball

a vegeterian quinoa meatball made simply with onion, parsley, garlic, romano cheese, complemented by our fresca sauce

$14

Granturco

Bi-colore fresh Florida corn with pesto genovese (fresh imported basil, pinenuts, garlic, romano cheese and extra virgin olive oil) and grana padano

$15
Primi
Gamberi Marechiara

jumbo shrimp, garlic, sweet onion, basil, parsley, Jersey tomato, white wine, fregola sarde

$36

Branzino

grilled whole mediterranean sea bass, olive oil, sea salt, grilled olives

$36

Bistecca

18oz 28 day dry aged prime sirloin steak, sea salt cracked pepper served with rosemary potatoes

$65
All Items Subject to Change
**Sundays Only**
Sugo Della Domenica
Sunday Sauce $31
House Made Braciole, Italian Sausage and Pork Rib Slow Cooked in Italian Tomato Sauce Served Over House Made Rigatoni
Imported from Italy Garafalo Gluten Free Pasta
Brunch: $29
Brunch with unlimited (2 hours)
Rosé or Frosé: $39
Plus sales tax and gratuity
Choice of appetizer
Misticanza

local green salad

Prosciutto

18 month aged Prosciutto di Parma, Grana Padana, Cerigniola olives

Cacio e Pepe

little gem lettuce, Caesar dressing, capers, bread crumbs

Barbabietole

roasted beets, goat cheese, arugula, red onion

Arancini

risotto balls, peas, saffron, mozzarella

Salmone

tartare asparagus, Dijon, lemon, olive oil

Frutti di Bosco

berries with fresh cream
Bread Basket
Morning Glory Muffin

Blueberry Muffin

Croissant and Focaccia

Pecan Butter and Raspberry Jam
Choice of Entree
French Toast

pecan butter, fresh berries, VT. maple syrup

Uova Pommodoro

two eggs, poached in tomato sauce, ciabatta, Grana Padano, potatoes

Frittata

three eggs, mascarpone, zucchini, onion, bruschetta, potatoes, onions

"B.E.C"

scrambled eggs, green onion, pancetta, mozzarella, arugula, ciabatta roll, potatoes

Pizza Uova

wood oven, fresh tomato, robiolina, onions, egg

Margherita Pizza

wood oven pizza, tomato, bufala mozzarella, basil

Bolognese

house made mafaldine, slow cooked meat sauce with veal, beef, pork, ricotta

Spaghetti Calamari

house made spaghetti, calamari, tomato, Castelvetrano olives, chilis

Rigatoni Melanzane

roasted eggplant, onion, tomato, pignoli nut, raisins, house made pasta.

Mkt Fish

seasonal preparation

Milanese

crispy pan-fried chicken breast, tomato, bufala mozzarella, pignoli

Bistecca

Black Angus hangar steak, over easy farm egg, salsa verde, onion, potatoes.
Sides
Eggs

two eggs, any style

$8

Sausage

Grilled Italian sausage

$8

Pancetta

Italian pancetta

$8

Patate

plancha roasted potatoes

$8

Frutta

fresh berries and cream

$10
Caffé
Espresso

wood roasted blend from Trieste, Italy. Served with a homemade biscotti

$5

Cappucino

wood roasted espresso blend with steamed milk and a homemade biscotti

$7.50

Biscotti Caffé

five bean coffee blend, biscotti liqueur, fresh made whipped cream and a homemade biscotti

$13

Sambuca Caffé

five bean coffee blend, Sambuca Molinari, fresh made whipped cream and a homemade biscotti

$13

Frangelico Caffé

five bean coffee blend, Frangelico, fresh made whipped cream and a homemade biscotti

$13

Tia Maria Caffé

five bean coffee blend, Tia Maria, dark rum, fresh made whipped cream, and a homemade biscotti

$13

Kahlua Caffé:

wood roasted coffee blend, Kahlua, ánejo tequila, fresh made whipped cream and a homemade biscotti

$13
Dolci
All priced at $11
Cannoli Napoleon

house made puff pastry with cannoli cream and chocolate curls, drizzled with caramel sauce

Torta di Cioccolato e Polenta

bittersweet chocolate tart, crispy polenta crust, served warm with vanilla gelato

Torta di Fragole

Tuscan strawberry rhubarb cake, brown sugar glaze with vanilla gelato

Gelato e Sorbet

choice of artisanal gelato, vanilla, cherry vanilla, chocolate, espresso, pistachio, grapefruit campari and lemon sorbet

Cannoli

house made cannoli cheesecake, with pistachio, candied orange and chocolate chips

Cono

house made waffle cone served with choice of artisanal gelato: vanilla, cherry vanilla, chocolate, espresso, pistachio. Additional scoop: $3

Biscotti

Lemon pistachio biscotti and chocolate walnut biscotti with Nutella mascarpone and cannoli cream dipping

Pizza con Nutella

sweet pizza with ricotta cheese, Nutella and powdered sugar (for two or more)

$18
Grappa
Jacopo Poli Miele Grappa Liqueur

$17.50

Jacopo Poli Mirtillo Grappa Liqueur

$17.50

Nonino Grappas: Moscato, Chardonnay, Merlot

$17.50

Berta Grappas: Brunello, Gavi, Chianti, Amarone

$19

Po Traminer di Poli

$24

Po Pinot di Poli

$24

Po Scarpa di Poli

$24

Po Merlot di Poli

$24

Jacopo Poli Moscato Grappa

$31

Jacopo Poli Vespaiolo Grappa

$31

Jacopo Poli Torcolato

$31

Jacopo Poli Arzente

$31

Sassicaia Grappa

$31
Porto
Fonseca Ruby

$15.50

Fonseca Bin No. 27

$15.50

Taylor Fladgate 10 Tawny

$15.50

Taylor Fladgate 20 Tawny

$20

Taylor Fladgate 30 Tawny

$26.50

Quinta da Roeda 2008 Vintage

$22
Liquer
Meletti Sambuca

$13.50

Fernet Branca

$13.50

Fernet Branca Menta

$13.50

Sambuca Molinari

$13.50

Faretti Biscotti Liqueur

$13.50

Nocello

$13.50

Tosolini Saliza Amaretto

$13.50

Nardini Aqua di Cedro

$13.50

Santa Maria Monte Amaro

$13.50

Nonino Amaro

$13.50

Sempe Vieil Armagnac

$33
Cocktails - $15.5
Frosato

Frozen Italian Rosé Wine, Raspberries

Negroni

Hendrinks Gin, Antica Formula sweet vermouth, Campari, 21 day barrel aged served on the rocks with a fresh orange twist

La Forza

Tito's Vodka, muddled orange, lemon, lime, sugar in the raw served on the rocks

Lemon-Coco Mojito

White rum, lemonade, coconut milk, fresh mint

Margarita Affumicato

Casamigos Mezcal, Ancho Reyes Chili Liquor, hot pepper, lime

Boulevardier

Barrel aged Journeyman Rye, Antica Vermouth, Campari, orange twist
Summer Spritz - $15.5
Aperol Spritz

Aperol, Zonin Prosecco, club, orange

Viola Spritz

Creme de Violette, Malfy Gin, Prosecco, grapefruit, sparkling water

Bergamotto Spritz

Italicus Rosilio di Bergamotto, Prosecco, lemon juice, watermelon radish

Rosato Spritz

St. Germain, sparkling Rosé, raspberry vodka, frozen berries

Zenzero Spritz

Cantone ginger liquor, prosecco, ginger beer, lime

Campari Spritz

Campari, moscato, sparkling water, orange
Birra Alla Spina $8
Wet Ticket Blood Orange Belgian Pale Ale

ABV 6.2%, Rahway N.J.

Carton Boat Session Ale

ABV 4.2%, Atlantic Highlands N.J.

Kane Head High American-India Pale Ale

ABV 6.5%, Ocean, N.J.

Sixpoint Crisp Pilsner

ABV 5.4%, Brooklyn, N.Y.

Brotherton IPA

ABV 6.6 % Shamong, N.J
Bottiglie
Bruton Lilith

$12

Peroni

$7

Miller Light

$6

Anchor Steam

$7

Heineken Light

$7

Sierra Nevada Pale Ale

$7

Guinness Can

$7

Duvel

$9
Vini Bianchi - White Wine
Il Giro Pinot Grigio 2017 (Veneto) - 100% Pinot Grigio

$11

Eisacktaler Kellerei Cantine Valle Isarco Sauvignon 2018 - 100% Sauvignon Blanc

$13

Dipinti Vigneti delle Dolomiti Chardonnay 2018 (Trentino-Alto Adige) - 100% Chardonnay

$13

Mora e Memo Tino Vermentino di Sardegna 2017 (Sardegna) - 100% Vermentino

$13

San Salvatore Falanghina 2017 (Campania) Organic - 100% Falanghina

$13

Feudo Montoni Catarratto Vigna del Masso 2017 (Sicilia) - 100% Catarratto

$13.50

Arnaldo Caprai Colli Martani Grechetto Grecante 2017 (Umbria) - 100% Grechetto

$14.50

Terlano Pinot Bianco 2018 (Trentino-Alto Adige) - 100% Pinot Bianco

$15.50

Terlano Südtirol Alto Adige Chardonnay 2018 (Trentino-Alto Adige) - 100% Chardonnay

$16.50

Vietti Roero Arneis 2018 (Piemonte) - 100% Arneis

$17.50
Vini Rosati - Rose Wine
Casa Vinicola Zonin Sparkling Rosé N/V (Sicilia) - 100% Nerello Mascalese

$11

Il Giro Cerasuolo d'Abruzzo Rosé 2018 (Abruzzo) - 100% Montepulciano

$11

Remo Farina Bardolino Chiaretto Rosé 2018 (Veneto) - 60% Corvina 25% Rondinella 15% Molinara

$12

Terlano Südtirol Alto Adige Lagrein Rosé 2018 (Trentino-Alto Adige) - 100% Lagrein

$14

Feudo Montoni Rosé di Adele 2018 (Sicilia) - Nerello Mascalese

$16

San Salvatore Vetere Rosato 2018 (Campania) - 100% Aglianico

$17
Vini Spumati - Sparkling Wines
Casa Vinicola Zonin N/V (Veneto) - 100% Prosecco

$11

Casa Vinicola Zonin Sparkling Rosé N/V (Sicilia) - 100% Nerello Mascalese

$11

Bisol Prosecco di Valdobbiadene Superiore Crede Brut 2016 (Veneto) - Glera, Pinot Bianco, Verdiso

$29
Vini Rossi - Red Wines
Il Giro Cabernet Sauvignon 2017 (Veneto) - 100% Cabernet Sauvignon

$11

Donna Laura Bramosia Chianti Classico 2016 (Toscana) - 85% Sangiovese 15% Merlot

$12

Era Montepulciano d'Abruzzo 2017 (Abruzzo) Organic - 100% Montepulciano

$12

Braida Barbera Il Monello 2015 (Piemonte) - 100% Barbera

$13

Buglioni Valpolicella Classico Superiore L'Imperfetto 2015 (Veneto)

$13.50

Dipinti Pinot Noir 2017 (Trentino-Alto Adige) - 100% Pinot Noir

$14

Arnaldo Caprai Montefalco Rosso 2015 (Umbria) - 70% Sangiovese 15% Sagrantino 15% Merlot

$15.50

Tolaini Al Passo 2015 (Toscana) Super Tuscan - 85% Sangiovese 15% Merlot

$16

San Felice Bell'Aja Bolgheri 2016 - Toscana (60% Merlot, 40% Cabernet Sauvignon)

$17.50

Podere Sapaio Volpolo 2016 (Toscana) - 70% Cabernet Sauvignon 15% Merlot 15% Petit Verdot

$23.50
La Lista Stagionale
A hand curated list of seasonal favorites Wednesday Half Price bottles & Thursday Half Price glasses
Il Giro Cerasuolo d'Abruzzo Rosé 2017 (Abruzzo) – 100% Montepulciano

Pale red with bright purple hues. Hints of raspberry, currant, blackberry and cherry are combined with a soft floral background.

Glass $11

Bottle $33

G.D. Vajra Rosabella Rosato 2017 (Piemonte) – Nebbiolo, Barbera, Dolcetto

Pinkish orange with a strawberry bouquet and hints of cherry. Medium bodied, pleasant acidity and tasty minerals. Dry and refreshing finish.

Glass $15

Bottle $50

Saladini Pilastri Pecorino 2018 (Marche) – 100% Pecorino Organic

Great structure and character with intriguing minerality and lingering notes of citrus.

Glass $10

Bottle $35

Prodigo Friuli Grave Sauvignon Blanc 2016 (Friuli-Venezia) – 100% Sauvignon Blanc

Clean and crisp on the palate. Mild acidity with notes of some tropical fruits and elderflower.

Glass $13

Bottle $44

La Capranera Falanghina 2017 (Campania) – 100% Falanghina

A perfect combination of cedar with tropical notes and accents of banana. Delicious with cheeses and excellent with shellfish and seafood.

Glass $14

Bottle $47

Saladini Pilastri Rosso Piceno 2017 (Marche) Organic (A blend of Sangiovese & Montepulciano)

Fresh and fruity palate that is well-structured with soft tannins, mellowed in French oak.

Glass $10

Bottle $35

Prodigo Appassite Nero d'Avola 2016 (Sicilia) – 100% Nero d'Avola

Vibrant and aromatic. Intense and persistent aromas with a pleasant and velvety body

Glass $13

Bottle $44

Gran Passione Rosso Appassimento 2018 (Veneto) (Valpolicella blend of Corvina e Merlot) Ripasso

Intense purple color. Full-bodied, rich with dark fruit flavors of blackberry and black cherry. Balanced alcohol, acidity, and soft tannins.

Glass $13

Bottle $44

Michele Chiarlo Nebbiolo Langhe "Il Principe" 2014 (Piemonte) - 100% Nebbiolo

Ample and delicate expressions of the Nebbiolo grape variety. Good structure, fine tannins, good round finish and elegant fine spices.

Glass $16

Bottle $56

Agricola Punica Montessu 2015 (Sardegna) 60% Carignano 10% Syrah 10% Cabernet Sauvignon 10% Cabernet Franc 10% Merlot)

Deep ruby red, intensely fruity with a liquorice, elegant full finish.

Glass $19

Bottle $67

Damilano Barolo Lecinquevigne 2014 (Piemonte) – 100% Nebbiolo

Ruby red with intense nose violets and leather. Soft and persistent finish.

Glass $40

Bottle $123
Vini Al Coravin
Tenuta San Guido Sassicaia 2003 - 85% Cabernet Sauvignon 15% Cabernet Franc

$120

Tenuta San Guido Sassicaia 2005 - 85% Cabernet Sauvignon 15% Cabernet Franc

$120

Tenuta San Guido Sassicaia 2003/2005 (Side by Side) - 85% Cabernet Sauvignon 15% Cabernet Franc

$210
Vini Dolci
Catello del Poggio Moscato Pavia 2016 (Piemonte) - 100% Moscato

$10

Bera Brachetto 2016 (Piemonte) - 100% Brachetto

$10

Poggio Salvi Vin Santo 2006 (Toscana) - Trebbiano, Malvasia

$20

Coppo Moncalvina Moscato d'Asti 2017 (Piemonte) 750ml - 100% Moscato

$42
Northern Italy
Bin 163 Marco Felluga 'Just Molamatta' 2018 (Friuli-Venezia Giulia) - Pinot Bianco

$40

Bin 160 Marco Felluga 'Molamatta' Collio Bianco 2015 (Friuli-Venezia Giulia) - Pinot Bianco

$70

Bin 167 Vie di Romans Vieris Sauvignon Piere 2016 (Friuli-Venezia Giulia) - 100% Sauvignon Blanc

$95

Bin 168 Jermann Dreams 2016 (Friuli-Venezia Giulia) - 97% Chardonnay

$158

Bin 169 Jermann Vintage Tunina 2013 (Friuli-Venezia Giulia) - Sauvignon Blanc, Chardonnay, Ribolla Gialla $

$150

Bin 279 Vietti Roero Arneis 2018 (Piemonte) - 100% Arneis

$56

Bin 288 Coppo Moncalvina Moscato d'Asti 2017 (Piemonte) - 100% Moscato

$42

Bin 292 G.D. Vajra Riesling Pietracine Langhe 2017 (Piemonte) - 100% Riesling

$84

Bin 282 La Scolca Gavi di Gavi White Label 2017

$47

Bin 283 La Scolca Gavi di Gavi Black Label 2016 (Piemonte) - 100% Cortese

$105

Bin 286 Gaja & Rey Chardonnay 2014 (Piemonte) - 100% Chardonnay

$750

Bin 1120 St. Michael-Eppan Südtirol Alto Adige Chardonnay 2017 (Trentino-Alto Adige) - 100% Chardonnay

$44

Bin 1121 St. Michael-Eppan Südtirol Alto Adige Pinot Grigio 2017 (Trentino-Alto Adige) - 100% Pinot Grigio

$47

Bin 1122 St. Michael-Eppan Südtirol Alto Adige Pinot Bianco 2017 (Trentino-Alto Adige) - 100% Pinot Bianco

$48

Bin 1110 Dipinti Vigneti delle Dolomiti Chardonnay 2018 (Trentino-Alto Adige) - 100% Chardonnay

$39

Bin 1117 Eisacktaler Kellerei Cantine Valle Isarco 2018 (Trentino-Alto Adige) - 100% Sauvignon Blanc

$39

Bin 1118 Kofererhof Südtiro Pinot Grigio 2017 (Trentino-Alto Adige) - 100% Pinot Grigio

$60

Bin 1123 Kofererhof Valle Isarco Kerner 2016 (Trentino-Alto Adige) - 100% Kerner

$65

Bin 1124 Kofererhof Valle Isarco Gewurztraminer 2016 (Trentino-Alto Adige) - 100% Gewurztraminer $

$65

Bin 1125 Terlano Pinot Bianco 2018 (Trentino-Alto Adige) - 100% Pinot Bianco

$53

Bin 1126 Terlano Südtirol Alto Adige Chardonnay 2018 (Trentino-Alto Adige) - 100% Chardonnay

$43

Bin 1140 Terlano Nova Domus 2014 (Trentino-Alto Adige) - Pinot Bianco, Chadonnay, Sauvignon Blanc

$125

Bin 1119 Elena Walch "Kastelaz" Gewurztraminer 2015 (Trentino-Alto Adige) - 100% Gewurztraminer

$68

Bin 1290 Il Giro Pinot Grigio 2017 (Veneto) - 100% Pinot Grigio

$33

Bin 1275 Pieropan Soave Calvarino 2016 (Veneto) - 70% Garganega 30% Trebbiano di Soave $

$77

Bin 1274 Pieropan Soave La Rocca 2015 (Veneto) - 100% Garganega

$93

Bin 1225 Les Cretes Chardonnay 2016 (Valle d'Aosta) - 100% Chardonnay

$58
Central Italy
Bin 1188 Argillae Orvieto 2016 (Umbria) - Trebbiano, Grechetto, Chardonnay, Malvasia di Candia

$33

Bin 1176 Arnaldo Caprai Colli Martani Grechetto Grecante 2017 (Umbria) - 100% Grechetto

$43

Bin 1178 Castello della Sala Bramito del Cervo 2017 (Umbria) - 100% Chardonnay

$53

Bin 1179 Antinori Cervaro della Sala 2016 (Umbria) - 90% Chardonnay 10% Grechetto

$145
Southern Italy
Bin 54 Paternoster Basilicata Falanghina Vulcanico 2017 (Basilicata) - 100% Falanghina

$42

Bin 82 Terredora Greco di Tufo 2018 - Campania (Greco)

$60

Bin 80 Terredora Fiano di Avellino 2018 - Campania (Fiano)

$60

Bin 86 San Salvatore Falanghina 2017 (Campania) Organic - 100% Falanghina

$40

Bin 732 Sardus Pater Terre Fenice Vermentino di Sardegna 2018 - Sardegna (Vermentino)

$33

Bin 748 Mora e Memo Tino Vermentino di Sardegna 2017 (Sardegna) - 100% Vermentino

$40

Bin 733 Pala I Fiori Vermentino di Sardegna 2018 - Sardegna (Vermentino)

$35

Bin 734 Pala Stellato Vermentino di Sardegna 2017 (Sardegna) - 100% Vermentino

$63

Bin 771 Feudo Montoni Catarratto Vigna del Masso 2017 (Sicilia) - 100% Catarratto

$42

Bin 763 Tornatore Etna Bianco 2016 (Sicilia) - 100% Carricante

$56

Bin 768 Benanti Etna Bianco 2017 (Sicilia) - 100% Carricante

$63

Bin 767 Benanti Pietramarina Etna Bianco 2013 (Sicilia) - 100% Carricante

$157
Bin 1408 Remo Farina Bardolino Chiaretto Rosé 2018 (Veneto) - 60% Corvina 25% Rondinella 15% Molinara

$36

Bin 1410 Terlano Sudtirol Alto Adige Lagrein Rosé 2018 - Trentino-Alto Adige (Lagrein)

$42

Bin 1406 Pietranera Le Logge Rosato 2018 - Toscana (Sangiovese)

$45

Bin 1409 Castello di Bossi Rosato 2018 (Toscana) 70% Sangiovese 30% Cabernet Sauvignon

$47

Bin 1412 Feudo Montoni Rosé di Adele 2018 (Sicilia) - 100% Nerello Mascalese

$48

Bin 1402 G.D. Vajra Rosabella Rosato 2017 (Piemonte) - Nebbiolo, Barbera, Dolcetto

$50

Bin 1405 Ippolito Ciro Pescanera Rosato 2018 (Calabria) - 100% Greco Nero

$52

Bin 1407 San Salvatore Vetere Rosato 2018 (Campania) - 100% Aglianico

$54

Bin 1413 Benanti Etna Rosato 2018 (Sicilia) 100% Nerello Mascalese

$63
Abruzzo
Bin 33 Era Montepulciano d'Abruzzo 2017 Organic - 100% Montepulciano

$38

Bin 28 Fattoria La Valentina Montepulciano d'Abruzzo Spelt Riserva 2014 - 100% Montepulciano

$53

Bin 32 Masciarelli Montepulciano d'Abruzzo 2015 - 100% Montepulciano

$30

Bin 31 Masciarelli Marina Cvetic Montepulciano d'Abruzzo Riserva 2015 - 100% Montepulciano

$62

Bin 22 Emidio Pepe Montepulciano d'Abruzzo 1977 - 100% Montepulciano

$490

Bin 23 Emidio Pepe Montepulciano d'Abruzzo 1980 - 100% Montepulciano

$475

Bin 24 Emidio Pepe Montepulciano d'Abruzzo 1982 - 100% Montepulciano

$466

Bin 25 Emidio Pepe Montepulciano d'Abruzzo 1995 - 100% Montepulciano

$365
Campania e Basilicata
Bin 51 Paternoster Aglianico del Vulture Sorso 2012 (Basilicata) - 100% Aglianico del Vulture

$28

Bin 57 D'Angelo Aglianico del Vulture 2013 (Basilicata) - 100% Aglianico del Vulture

$48

Bin 94 La Capranera Aglianico 2017 Organic - 100% Aglianico

$44

Bin 96 Terredora di Paolo Aglianico 2015 - 100% Aglianico

$40

Bin 98 Terredora di Paolo Taurasi Fatica Contadina 2012 (Aglianico)

$82

Bin 89 Molettieri Taurasi Vigna Cinque Querce 2008 - 100% Aglianico

$105

Bin 92 Mastroberardino Lacryma Christi del Vesuvio Rosso 2017 - 100% Piedirosso

$56

Bin 93 Mastroberardino Villa dei Misteri Rosso 2006 - 100% Piedirosso

$420

Bin 107 Silvia Imparato Montevetrano 2005 - 60% Cabernet Sauvignon 30% Merlot 10% Aglianico

$248

Bin 108 Silvia Imparato Montevetrano 2006 - 60% Cabernet Sauvignon 30% Merlot 10% Aglianico

$232

Bin 112 Galardi Terra di Lavoro 2003 - 80% Aglianico 20% Piedirosso

$315

Bin 115 Galardi Terra di Lavoro 2006 (1.5 Liter) - 80% Aglianico 20% Piedirosso

$630
Friuli-Venezia Giulia
Bin 183 Russiz Merlot Classico 2015 - 100% Merlot

$53

Bin 185 Scarbolo Merlot Classico 2015 - 100% Merlot

$47

Bin 184 Miani Rosso 2011 - Merlot, Cabernet Franc, Cabernet Sauvignon, Tazzelenghe

$280
Piemonte
Bin 339 Sottimano Dolcetto d'Alba "Bric del Salto" 2016

$35

Bin 295 Mauro Molino Langhe Dolcetto 2017

$35

Bin 313 Serragrilli Dolcetto d'Alba 2016

$42

Bin 553 Paolo Manzone Dolcetto d'Alba Magna 2013

$42

Bin 328 Cigliuti Dolcetto d'Alba 2017

$47

Bin 315 Luca Bosio Barbera d'Asti 2017

$30

Bin 317 Marco Porello Barbera d'Alba Filatura 2016

$35

Bin 304 Michele Chiarlo "Le Orme" Barbera d'Asti 2014

$39

Bin 308 Vietti "Tre Vigne" Barbera d'Asti 2016

$40

Bin 313 Braida Barbera Il Monello 2015

$40

Bin 294 Braida Barbera Bricco delle Uccellone 2013

$165

Bin 293 Braida Barbera Bricco delle Bigotta 2013

$170

Bin 296 Damilano Nebbiolo Langhe Marghe 2016

$50

Bin 337 Sottimano Nebbiolo Langhe Besarin 2016

$52

Bin 321 Giacomo Grimaldi Nebbiolo d'Alba "Valmaggiore" 2016

$57

Bin 309 G.D. Vajra Nebbiolo Langhe 2017

$58

Bin 319 Pietro Cassina Lassona Tanzo 2009

$163

Bin 340 Produttori del Barbaresco 2014

$105

Bin 343 Produttori del Barbaresco 2015

$100

Bin 330 Produttori del Barbaresco "Rio Sordo" Barbaresco Riserva 2013

$170

Bin 601 Produttori del Barbaresco "Rio Sordo" Barbaresco Riserva 2014

$165

Bin 331 Produttori del Barbaresco "Ovello" Barbaresco Riserva 2013

$170

Bin 332 Produttori del Barbaresco "Paje" Barbaresco Riserva 2013

$170

Bin 604 Produttori del Barbaresco "Paje" Barbaresco Riserva 2014

$165

Bin 333 Produttori del Barbaresco "Montefico" Barbaresco Riserva 2013

$170

Bin 606 Produttori del Barbaresco "Montefico" Barbaresco Riserva 2014

$165

Bin 334 Produttori del Barbaresco "Muncagota" Barbaresco Riserva 2013

$170

Bin 602 Produttori del Barbaresco "Muncagota" Barbaresco Riserva 2014

$165

Bin 335 Produttori del Barbaresco "Montestefano" Barbaresco Riserva 2013

$170

Bin 607 Produttori del Barbaresco "Montestefano" Barbaresco Riserva 2014

$165

Bin 336 Produttori del Barbaresco "Asili" Barbaresco Riserva 2013

$170

Bin 603 Produttori del Barbaresco "Asili" Barbaresco Riserva 2014

$165

Bin 310 Produttori del Barbaresco "Pora" Barbaresco Riserva 2013

$170

Bin 608 Produttori del Barbaresco "Pora" Barbaresco Riserva 2014

$165

Bin 311 Produttori del Barbaresco "Rabaja" Barbaresco Riserva 2013

$170

Bin 605 Produttori del Barbaresco "Rabaja" Barbaresco Riserva 2014

$165

Bin 346 Sottimano "Pajore" Barbaresco 2014

$145

Bin 345 Sottimano "Fausoni" Barbaresco 2014

$145

Bin 350 Sottimano "Cotta" Barbaresco 2011

$160

Bin 581 Sottimano "Cotta" Barbaresco 2013

$150

Bin 347 Sottimano "Cotta" Barbaresco 2014

$145

Bin 352 Sottimano "Curra" Barbaresco 2009

$195

Bin 353 Sottimano "Curra" Barbaresco 2011

$185

Bin 348 Sottimano "Curra" Barbaresco 2013

$175

Bin 354 Sottimano Barbaresco Riserva 2008

$210

Bin 312 Serragrilli Barbaresco 2015

$123

Bin 342 Pelissero "Cru Vanotu" Barbaresco Riserva 2003

$205

Bin 417 Oddero Barbaresco Gallina 2011

$137

Bin 572 Marchesi di Gresy Martinenga Barbaresco 2005

$250

Bin 573 Marchesi di Gresy Martinenga Barbaresco 2006

$230

Bin 356 Marchesi di Gresy Martinenga Barbaresco 2007

$210

Bin 357 Marchesi di Gresy Martinenga Barbaresco 2008

$200

Bin 358 Marchesi di Gresy Martinenga Barbaresco 2009

$195

Bin 360 Angelo Gaja Barbaresco 2004

$560

Bin 361 Angelo Gaja Barbaresco 2005

$540

Bin 362 Angelo Gaja Barbaresco 2006

$530

Bin 364 Angelo Gaja Barbaresco 2011

$500

Bin 365 Angelo Gaja Langhe "Sori Tildin" 2000

$960

Bin 366 Angelo Gaja Langhe "Sori Tildin" 2001

$950

Bin 367 Angelo Gaja Langhe "Sori Tildin" 2006

$880

Bin 368 Angelo Gaja Langhe "Sori Tildin" 2007

$862

Bin 369 Angelo Gaja Langhe "Sori Tildin" 2008

$850

Bin 370 Angelo Gaja Langhe "Sori Tildin" 2011

$825

Bin 372 Angelo Gaja Langhe "Costa Russi" 2008

$850

Bin 373 Angelo Gaja Langhe "Costa Russi" 2011

$825

Bin 375 Angelo Gaja Langhe "Sori San Lorenzo" 2006

$900

Bin 377 Angelo Gaja Langhe "Sori San Lorenzo" 2011

$825

Bin 537 Angelo Gaja Darmagi 2006 - 100% Cabernet Sauvignon

$525

Bin 552 Damilano Barolo "Lecinquevigne" 2014

$123

Bin 548 Damilano Barolo "Cannubi" 2011

$175

Bin 384 Damilano Barolo Riserva 2000

$200

Bin 547 Damilano Barolo "Brunate" 2011

$195

Bin 387 Damilano Barolo "Brunate" 2013

$187

Bin 390 Renato Ratti Barolo Rocche 2003

$260

Bin 391 Renato Ratti Barolo Rocche 2009

$252

Bin 392 Renato Ratti Barolo Conca 2006

$230

Bin 393 Renato Ratti Barolo Conca 2009

$200

Bin 396 Luigi Einaudi Barolo "Nei Cannubi" 2006

$250

Bin 397 Luigi Einaudi Barolo "Nei Cannubi" 2008

$241

Bin 398 Luigi Einaudi Barolo "Costa Grimaldi" 2007

$250

Bin 399 Luigi Einaudi Barolo "Costa Grimaldi" 2008

$240

Bin 322 Elvio Cogno Barolo "Bricco Pernice" 2010

$290

Bin 323 Elvio Cogno Barolo "Bricco Pernice" 2011

$280

Bin 324 Elvio Cogno Barolo "Vigna Elena" Riserva 2011

$290

Bin 325 Elvio Cogno Barolo "Ravera" 2012

$195

Bin 326 Elvio Cogno Barolo "Ravera" 2013

$187

Bin 329 Elvio Cogno Barolo "Cascina Nuova" 2013

$140

Bin 446 Paolo Conterno Barolo "Ginestra" 2013

$181

Bin 447 Paolo Conterno Barolo "Riva del Bric" 2014

$116

Bin 402 Michele Chiarlo Barolo "Cerequio" 2003

$330

Bin 404 Michele Chiarlo Barolo "Cerequio" 2009

$315

Bin 405 Michele Chiarlo Barolo "Cerequio" 2011

$305

Bin 406 Michele Chiarlo Barolo "Cerequio" 2013

$295

Bin 407 Roagna Barolo Vigna Rionda 2005

$175

Bin 545 Roagna Barolo Pira 2010 Organic

$230

Bin 600 Roagna Barolo Pira 2012

$225

Bin 598 Roagna Barolo Pira 2011

$218

Bin 599 Roagna Barolo Pira Vecchie Viti 2011

$375

Bin 408 Roagna Barolo Rocca e la Pira 2001

$210

Bin 409 Roagna Barolo Rocca e la Pira 2004

$205

Bin 413 Roagna Barolo Rocca e la Pira Riserva 1998

$262

Bin 410 Oddero Barolo 2014

$105

Bin 306 Oddero Barolo "Villero" 2007 1.5L

$408

Bin 416 Oddero Barolo "Villero" 2011

$225

Bin 575 Oddero Barolo "Villero" 2012

$220

Bin 415 Oddero Barolo "Villero" 2013

$210

Bin 577 Oddero Barolo "Vigna Rionda" 2006

$345

Bin 579 Oddero Barolo "Vigna Rionda" Riserva 2005

$415

Bin 303 Oddero Barolo "Vigna Rionda" Riserva 2006

$408

Bin 302 Oddero Barolo "Vigna Rionda" Riserva 2007

$400

Bin 297 Oddero Barolo "Brunate" 2008

$335

Bin 298 Oddero Barolo "Brunate" 2009

$330

Bin 418 Oddero Barolo "Brunate" 2010

$325

Bin 305 Oddero Barolo "Brunate" 2011

$320

Bin 299 Oddero Barolo "Brunate" 2012

$315

Bin 300 Oddero Barolo "Brunate" 2013

$310

Bin 419 Oddero Barolo "Cru Rocche dei Rivera di Castiglione" 1996

$310

Bin 420 Oddero Barolo "Cru Rocche dei Rivera di Castiglione" 1998

$300

Bin 421 Oddero Barolo "Cru Rocche dei Rivera di Castiglione" 1999

$295

Bin 422 Oddero Barolo "Cru Rocche dei Rivera di Castiglione" 2000

$270

Bin 425 Oddero Barolo "Cru Rocche dei Rivera di Castiglione" 2011

$175

Bin 426 Oddero Barolo "Mondoca di Bussia Soprana" 1998

$330

Bin 427 Oddero Barolo "Mondoca di Bussia Soprana" 1999

$320

Bin 428 Oddero Barolo "Mondoca di Bussia Soprana" 2000

$310

Bin 430 Oddero Barolo "Mondoca di Bussia Soprana" 2007

$285

Bin 432 Oddero Barolo "Mondoca di Bussia Soprana" 2008

$280

Bin 431 Oddero Barolo "Mondoca di Bussia Soprana" 2009

$275

Bin 433 Oddero Barolo "Mondoca di Bussia Soprana" 2010

$270

Bin 434 Oddero Barolo "Mondoca di Bussia Soprana" 2012

$260

Bin 438 Giacomo Conterno Barolo Cascina Francia 2000

$450

Bin 441 Giacomo Conterno Barolo Cascina Francia 2008

$415

Bin 442 Giacomo Conterno Barolo Cascina Francia 2009

$410

Bin 449 Giacomo Conterno Barolo Cascina Francia 2012

$350

Bin 443 Giacomo Conterno Barolo Monfortino Riserva 2004 100 points WA

$1,200

Bin 444 Giacomo Conterno Barolo Monfortino Riserva 2005

$1,100

Bin 445 Prunotto Barolo Bussia 1999

$230

Bin 448 Prunotto Barolo Bussia 2003

$212

Bin 586 Paolo Scavino Barolo "Monvigliero" 2013

$152

Bin 453 Paolo Scavino Barolo "Cannubi" 2005

$285

Bin 454 Paolo Scavino Barolo "Cannubi" 2006

$280

Bin 456 Paolo Scavino Barolo "Cannubi" 2008

$275

Bin 457 Paolo Scavino Barolo "Bric Fiasc" 1995

$480

Bin 458 Paolo Scavino Barolo "Bric Fiasc" 1999

$460

Bin 459 Paolo Scavino Barolo "Bric Fiasc" 2001

$440

Bin 460 Paolo Scavino Barolo "Bric Fiasc" 2004

$330

Bin 461 Paolo Scavino Barolo "Bric Fiasc" 2005

$280

Bin 462 Paolo Scavino Barolo "Bric Fiasc" 2006

$275

Bin 463 Paolo Scavino Barolo "Bric Fiasc" 2007

$260

Bin 464 Paolo Scavino Barolo "Bric Fiasc" 2008

$250

Bin 465 Paolo Scavino Barolo "Bric Fiasc" 2009

$240

Bin 569 Paolo Scavino Barolo "Bric Fiasc" 2012

$205

Bin 587 Paolo Scavino Barolo "Bric Fiasc" 2013

$200

Bin 467 Paolo Scavino Barolo "Carobric" 2001

$260

Bin 468 Paolo Scavino Barolo "Carobric" 2003

$220

Bin 469 Paolo Scavino Barolo "Carobric" 2004

$230

Bin 471 Paolo Scavino Barolo "Carobric" 2008

$190

Bin 472 Paolo Scavino Barolo "Carobric" 2009

$170

Bin 585 Paolo Scavino Barolo "Carobric" 2013

$154

Bin 473 Paolo Scavino Barolo Riserva "Rocche dell'Annunziata" 1999

$470

Bin 474 Paolo Scavino Barolo Riserva "Rocche dell'Annunziata" 2001

$450

Bin 475 Paolo Scavino Barolo Riserva "Rocche dell'Annunziata" 2003

$430

Bin 563 Paolo Scavino Barolo Riserva "Rocche dell'Annunziata" 2009

$310

Bin 597 Giuseppe Mascarello Barolo Santo Stefano di Pierno 2012

$262

Bin 476 Giuseppe Mascarello Barolo Villero 2006

$300

Bin 477 Giuseppe Mascarello Barolo Villero 2007

$295

Bin 556 Giuseppe Mascarello Barolo Villero 2011

$265

Bin 596 Giuseppe Mascarello Barolo Villero 2012

$260

Bin 478 Giuseppe Mascarello Barolo Monprivato 2000

$400

Bin 479 Giuseppe Mascarello Barolo Monprivato 2005

$390

Bin 480 Giuseppe Mascarello Barolo Monprivato 2006

$385

Bin 481 Giuseppe Mascarello Barolo Monprivato 2007

$380

Bin 482 Giuseppe Mascarello Barolo Monprivato 2008

$375

Bin 483 Giuseppe Mascarello Barolo Monprivato 2009

$370

Bin 555 Giuseppe Mascarello Barolo Monprivato 2011

$365

Bin 595 Giuseppe Mascarello Barolo Monprivato 2012

$360

Bin 486 Giacomo Borgogno Barolo 2001

$255

Bin 487 Giacomo Borgogno Barolo 2006

$230

Bin 488 Giacomo Borgogno Barolo 2007

$225

Bin 489 Giacomo Borgogno Barolo 2008

$220

Bin 591 Giacomo Borgogno Barolo 2011

$205

Bin 592 Giacomo Borgogno Barolo 2012

$197

Bin 491 Giacomo Borgogno Barolo "Vigna Liste" 2006

$273

Bin 493 Giacomo Borgogno Barolo Riserva 1978

$380

Bin 494 Giacomo Borgogno Barolo Riserva 1982

$365

Bin 495 Giacomo Borgogno Barolo Riserva 1985

$350

Bin 497 Giacomo Borgogno Barolo Riserva 1989

$345

Bin 498 Giacomo Borgogno Barolo Riserva 1990

$320

Bin 593 Giacomo Borgogno Barolo Riserva 1998

$300

Bin 594 Giacomo Borgogno Barolo Riserva 2003

$260

Bin 500 Roberto Voerzio Barolo "Brunate" 2005

$640

Bin 501 Roberto Voerzio Barolo "Brunate" 2006

$630

Bin 502 Roberto Voerzio Barolo "Brunate" 2007

$620

Bin 503 Roberto Voerzio Barolo "Brunate" 2008

$610

Bin 504 Roberto Voerzio Barolo "Brunate" 2009

$600

Bin 505 Roberto Voerzio Barolo "Cerequio" 2003

$650

Bin 506 Roberto Voerzio Barolo "Cerequio" 2004

$640

Bin 507 Roberto Voerzio Barolo "Cerequio" 2006

$630

Bin 508 Roberto Voerzio Barolo "Cerequio" 2007

$620

Bin 509 Roberto Voerzio Barolo "Cerequio" 2008

$610

Bin 510 Roberto Voerzio Barolo "Cerequio" 2009

$600

Bin 511 Roberto Voerzio Barolo "La Sera" 2004

$655

Bin 512 Roberto Voerzio Barolo "La Sera" 2005

$635

Bin 513 Roberto Voerzio Barolo "La Sera" 2008

$610

Bin 514 Vietti Barolo "Castiglione" 2013

$121

Bin 517 Vietti Barolo "Brunate" 2008

$395

Bin 518 Vietti Barolo "Brunate" 2009

$390

Bin 519 Vietti Barolo "Brunate" 2010

$385

Bin 520 Vietti Barolo "Brunate" 2011

$380

Bin 539 Vietti Barolo "Brunate" 2012

$375

Bin 588 Vietti Barolo "Brunate" 2013

$370

Bin 559 Vietti Barolo "Brunate" 2015

$365

Bin 521 Vietti Barolo "Lazzarito" 1993

$500

Bin 522 Vietti Barolo "Lazzarito" 2003

$480

Bin 523 Vietti Barolo "Lazzarito" 2007

$465

Bin 524 Vietti Barolo "Lazzarito" 2008

$460

Bin 525 Vietti Barolo "Lazzarito" 2009

$455

Bin 526 Vietti Barolo "Lazzarito" 2011

$445

Bin 541 Vietti Barolo "Lazzarito" 2012

$440

Bin 589 Vietti Barolo "Lazzarito" 2013

$435

Bin 515 Vietti Barolo "Lazzarito" 2014

$430

Bin 558 Vietti Barolo "Lazzarito" 2015

$425

Bin 527 Vietti Barolo "Ravera" 2011

$445

Bin 540 Vietti Barolo "Ravera" 2012

$440

Bin 528 Vietti Barolo "Ravera" 2014

$430

Bin 557 Vietti Barolo "Ravera" 2015

$425

Bin 529 Vietti Barolo "Rocche" 2008

$460

Bin 530 Vietti Barolo "Rocche" 2009

$455

Bin 531 Vietti Barolo "Rocche" 2010

$450

Bin 542 Vietti Barolo "Rocche" 2012

$440

Bin 590 Vietti Barolo "Rocche" 2013

$435

Bin 516 Vietti Barolo "Rocche" 2014

$430

Bin 554 Vietti Barolo "Rocche" 2015

$425

Bin 532 Vietti Barolo "Villero" Riserva 2001

$880

Bin 533 Vietti Barolo "Villero" Riserva 2004

$840

Bin 534 Vietti Barolo "Villero" Riserva 2006

$800

Bin 562 Domenico Clerico Barolo "Ciabot Mentin" Ginestra 1985

$750

Bin 561 Domenico Clerico Barolo "Ciabot Mentin" Ginestra 1989

$800

Bin 560 Domenico Clerico Barolo "Ciabot Mentin" Ginestra 1995

$460

Bin 546 Il Chiosso Gattinara 2010

$70

Bin 550 Antoniolo Gattinara 2012

$105

Bin 551 Antoniolo Gattinara 2013

$98
Puglia
Bin 713 Masseria Li Veli Salento Primitivo Orion 2017 - 100% Primitivo

$31

Bin 710 Copertino Primitivo Salento 2015 - 100% Primitivo

$35

Bin 712 Cantine San Marzano Primitivo di Manduria Talo 2017 - 100% Primitivo

$38

Bin 706 Cantine San Marzano Negroamaro Salento Talo 2015 - 100% Negroamaro

$38

Bin 705 Cantine San Marzano Salento Malvasia Nera Talo 2015 - 100% Malvasia Nera)

$40

Bin 708 Cantine San Marzano Primitivo di Manduria Sessantanni 2013 - 100% Primitivo

$80
Sardegna
Bin 747 Mora e Memo Nau Cannonau di Sardegna 2016 - 100% Cannonau

$35

Bin 737 Pala Silenzi Rosso 2015 - Carignano, Monica, Sangiovese

$30

Bin 736 Pala "I Fiori" Monica 2015 - 100% Monica

$37

Bin 738 Agricola Punica Montessu 2015 - 60% Carignano 10% Syrah 10% Cabernet Sauvignon 10% Merlot

$67

Bin 745 Argiolas Perdera Rosso 2013 - 90% Monica 5% Carignano 5% Bovale Sardo

$35

Bin 742 Argiolas Turriga 1995 - 85% Cannonau 5% Bovale Sardo 5% Carignano 5% Malvasia Nera

$440

Bin 743 Argiolas Turriga 2000 - 85% Cannonau 5% Bovale Sardo 5% Carignano 5% Malvasia Nera

$360
Sicilia
Bin 783 Tenuta Terre Nere Etna Rosso 2017 - Nerello Mascalese e Nerello Cappuccio

$49

Bin 812 Tenuta Terre Nere Etna Rosso "Moganazzi" 2017 - Nerello Mascalese e Nerello Cappuccio

$105

Bin 818 Tenuta Terre Nere Etna Rosso "Guardiola" 2016 - Nerello Mascalese e Nerello Cappuccio

$110

Bin 785 Tenuta Terre Nere Etna Rosso "Guardiola" 2017 - Nerello Mascalese e Nerello Cappuccio

$105

Bin 817 Tenuta Terre Nere Etna Rosso "Feudo di Mezzo" 2016 - Nerello Mascalese e Nerello Cappuccio

$110

Bin 810 Tenuta Terre Nere Etna Rosso "Feudo di Mezzo" 2017 - Nerello Mascalese e Nerello Cappuccio

$105

Bin 819 Tenuta Terre Nere Etna Rosso "Santo Spirito" 2016 - Nerello Mascalese e Nerello Cappuccio

$110

Bin 811 Tenuta Terre Nere Etna Rosso "Santo Spirito" 2017 - Nerello Mascalese e Nerello Cappuccio

$105

Bin 820 Tenuta Terre Nere Etna Rosso "San Lorenzo" 2016 - Nerello Mascalese e Nerello Cappuccio

$135

Bin 784 Tenuta Terre Nere Etna Rosso "San Lorenzo" 2017 - Nerello Mascalese e Nerello Cappuccio

$130

Bin 808 Tenuta Terre Nere Etna Rosso "Calderara Sottana" 2015 - Nerello Mascalese e Nerello Cappuccio

$140

Bin 816 Tenuta Terre Nere Etna Rosso "Calderara Sottana" 2016 - Nerello Mascalese e Nerello Cappuccio

$130

Bin 809 Tenuta Terre Nere Etna Rosso "Calderara Sottana" 2017 - Nerello Mascalese e Nerello Cappuccio

$130

Bin 814 Tenuta Terre Nere Etna Rosso "Prephylloxera" 2017

$231

Bin 796 Girolamo Russo Etna Rosso "A'Rina" 2016 - Nerello Mascalese e Nerello Cappuccio

$78

Bin 795 Girolamo Russo Etna Rosso "San Lorenzo" 2015 - Nerello Mascalese e Nerello Cappuccio

$133

Bin 794 Girolamo Russo Etna Rosso "Feudo" 2015 - Nerello Mascalese e Nerello Cappuccio

$133

Bin 791 Cos Frappato 2016 - 100% Frappato

$65

Bin 789 Cos Nero di Lupo 2016 - 100% Nero d'Avola

$70

Bin 792 Cos Cerasuolo di Vittoria 2015 - 60% Nero d'Avola, 40% Frappato

$70

Bin 815 Fuedi del Pisciotto Nero d'Avola Versace 2015 - 100% Nero d'Avola

$63

Bin 760 Tornatore Pietrarizzo Etna Rosso 2015 - 100% Nerello Mascalese

$117

Bin 761 Tornatore Trimarchisa Etna Rosso 2015 - 100% Nerello Mascalese

$187

Bin 782 Purato Nero d'Avola 2017 (Organic) - 100% Nero d'Avola

$30

Bin 779 Famiglia Statella Etna Rosso Pettinociarelle 2016 - 100% Nerello Mascalese

$93

Bin 813 Benanti Etna Rosso 2016 - Nerello Mascalese e Nerello Cappuccio

$63

Bin 802 Benanti Terre Siciliane Etna Rosso 2013 - 100% Nerello Cappuccio

$105

Bin 807 Benanti Rovitello 2014 - Nerello Mascalese

$123

Bin 803 Benanti Serra della Contessa Etna Rosso 2002 - Nerello Mascalese e Nerello Cappuccio

$280

Bin 799 Benanti Serra della Contessa Etna Rosso 2003 - Nerello Mascalese e Nerello Cappuccio

$265

Bin 805 Benanti Serra della Contessa Etna Rosso 2004 - Nerello Mascalese e Nerello Cappuccio

$245

Bin 804 Benanti Serra della Contessa Etna Rosso 2014 - Nerello Mascalese e Nerello Cappuccio

$150

Bin 800 Benanti Rovitello 2013 - 100% Nerello Mascalese

$140

Bin 801 Tasca d'Almerita Riserva del Conte 2010 - 67% Perricone 33% Nero d'Avola

$335
Toscana
Bin 867 Donna Laura Bramosia Chianti Classico 2016 - 85% Sangiovese 15% Merlot

$38

Bin 969 Tenuta Sette Cieli Yantra 2016 - 60% Sangiovese 40% Merlot

$45

Bin 1059 Castello di Volpaia Chianti Classico 2015 - 90% Sangiovese 10% Merlot

$46

Bin 994 Rocca di Montegrossi Chianti Classico 2016 - 100% Sangiovese

$55

Bin 870 Fattoria Selvapiana Chianti Rufina 2016 - 100% Sangiovese

$40

Bin 885 Felsina Chianti Classico Rancia Riserva 2013 - 100% Sangiovese

$150

Bin 886 Felsina Chianti Classico Rancia Riserva 2015 - 100% Sangiovese

$145

Bin 887 Felsina Chianti Classico Rancia Riserva 2016

$140

Bin 876 Castello di Bossi Chianti Classico 2015 - 100% Sangiovese

$56

Bin 869 Castello di Bossi "Girolamo" Merlot 2011 - 100% Merlot

$140

Bin 861 Castell'In Chianti Classico Riserva 1971 - 100% Sangiovese

$495

Bin 862 Castell'In Chianti Classico Riserva 1986 - 100% Sangiovese

$465

Bin 863 Castell'In Chianti Classico Riserva 1994 - 100% Sangiovese

$415

Bin 864 Castell'In Chianti Classico Riserva 1995 - 100% Sangiovese

$405

Bin 859 Castell'In Chianti Classico Riserva 2005 - 100% Sangiovese

$195

Bin 858 Castell'In Chianti Classico Riserva 2010 - 100% Sangiovese

$140

Bin 889 Coltibuono Chianti Classico Riserva 1970 - 90% Sangiovese 10% Canaiolo

$480

Bin 890 Coltibuono Chianti Classico Riserva 1981 - 90% Sangiovese 10% Canaiolo

$460

Bin 891 Coltibuono Chianti Classico Riserva 1987 - 90% Sangiovese 10% Canaiolo

$350

Bin 893 Castello di Ama Vigneto La Casuccia 2007 - Sangiovese, Merlot

$460

Bin 883 Talenti 'Trefolo' Rosso Toscano 2015 - 100% Sangiovese Grosso

$35

Bin 882 Talenti Rosso di Montalcino 2016 - 100% Sangiovese Grosso

$53

Bin 925 Val di Suga Rosso di Montalcino 2015 - 100% Sangiovese Grosso

$56

Bin 1067 Campogiovanni Rosso di Montalcino 2015 - 100% Sangiovese Grosso

$58

Bin 1042 Poggio di Sotto Rosso di Montalcino 2012 - 100% Sangiovese Grosso

$241

Bin 1052 San Polo Brunello di Montalcino 2012 - 100% Sangiovese Grosso

$158

Bin 880 Talenti 'Pian di Conte' Brunello di Montalcino Riserva 2012 - 100% Sangiovese Grosso

$201

Bin 921 Tiezzi Brunello di Montalcino 2013 - 100% Sangiovese Grosso

$123

Bin 922 Podere Brizio Brunello di Montalcino 2013 - 100% Sangiovese Grosso

$128

Bin 904 Pietranera Brunello di Montalcino 2013 - 100% Sangiovese Grosso

$116

Bin 970 Voliero Brunello di Montalcino Cortonesi 2013 - 100% Sangiovese Grosso

$140

Bin 907 Lisini Brunello di Montalcino Ugolaia 2011 - 100% Sangiovese Grosso

$210

Bin 920 Uccelliera Brunello di Montalcino 2013 - 100% Sangiovese Grosso

$165

Bin 923 Uccelliera Brunello di Montalcino Riserva 2012 - 100% Sangiovese Grosso

$370

Bin 908 Casanova di Neri Brunello di Montalcino White Label 2013 - 100% Sangiovese Grosso

$173

Bin 990 Casanova di Neri Brunello di Montalcino White Label 2014 - 100% Sangiovese Grosso

$169

Bin 912 Casanova di Neri Brunello di Montalcino Tenuta Nuova 2009 - 100% Sangiovese Grosso

$335

Bin 914 Casanova di Neri Brunello di Montalcino Tenuta Nuova 2011 - 100% Sangiovese Grosso

$280

Bin 1079 Casanova di Neri Brunello di Montalcino Tenuta Nuova 2012 - 100% Sangiovese Grosso

$275

Bin 909 Casanova di Neri Brunello di Montalcino Tenuta Nuova 2013 - 100% Sangiovese Grosso

$270

Bin 915 Casanova di Neri Brunello di Montalcino Cerretalto 2004 - 100% Sangiovese Grosso

$650

Bin 916 Casanova di Neri Brunello di Montalcino Cerretalto 2006 - 100% Sangiovese Grosso

$600

Bin 1077 Casanova di Neri Brunello di Montalcino Cerretalto 2012 - 100% Sangiovese Grosso

$550

Bin 917 Casanova di Neri Brunello di Montalcino Tenuta Nuova 2007 (1.5 Liter) - 100% Sangiovese Grosso

$550

Bin 926 Campogiovanni Brunello di Montalcino 2013 - 100% Sangiovese Grosso

$147

Bin 948 Biondi-Santi Annata Brunello di Montalcino 2012 - 100% Sangiovese Grosso

$480

Bin 932 Il Palazzone Brunello di Montalcino 2001 - 100% Sangiovese Grosso

$260

Bin 935 Il Palazzone Brunello di Montalcino 2005 - 100% Sangiovese Grosso

$225

Bin 956 Angelo Gaja Brunello di Montalcino Rennina 2004 - 100% Sangiovese Grosso

$770

Bin 945 Angelo Gaja Brunello di Montalcino Rennina 2010 - 100% Sangiovese Grosso

$370

Bin 943 Angelo Gaja Brunello di Montalcino Rennina 2013 - 100% Sangiovese Grosso

$450

Bin 949 Angelo Gaja Brunello di Montalcino Sugarille 2000 - 100% Sangiovese Grosso

$900

Bin 946 Angelo Gaja Brunello di Montalcino Sugarille 2004 - 100% Sangiovese Grosso

$800

Bin 947 Angelo Gaja Brunello di Montalcino Sugarille 2010 - 100% Sangiovese Grosso

$530

Bin 959 Angelo Gaja Brunello di Montalcino Sugarille 2013 - 100% Sangiovese Grosso

$505

Bin 960 Angelo Gaja Brunello di Montalcino Restituta 2013 - 100% Sangiovese Grosso

$240

Bin 950 Soldera Brunello di Montalcino 2002 - 100% Sangiovese Grosso

$825

Bin 951 Soldera Brunello di Montalcino 2003 - 100% Sangiovese Grosso

$800

Bin 958 Tolaini Al Passo 2015 - 34% Sangiovese 33% Merlot 33% Cabernet Sauvignon

$52

Bin 866 Podere Sapaio Volpolo 2016 - 70% Cabernet Sauvignon 15% Merlot 15%Petit Verdot

$52

Bin 1045 Podere Sapaio 'Sapaio' Superiore 2008 - 70% Cabernet Sauvignon 10% Cabernet Franc 10% Petit Verdot 10% Merlot

$70

Bin 1046 Podere Sapaio 'Sapaio' Superiore 2009 - 70% Cabernet Sauvignon 10% Cabernet Franc 10% Petit Verdot 10% Merlot

$245

Bin 1047 Podere Sapaio 'Sapaio' Superiore 2010 - 70% Cabernet Sauvignon 10% Cabernet Franc 10% Petit Verdot 10% Merlot

$235

Bin 1065 Podere Sapaio 'Sapaio' Superiore 2011 - 70% Cabernet Sauvignon 10% Cabernet Franc 10% Petit Verdot 10% Merlot

$225

Bin 1054 Podere Sapaio 'Sapaio' Superiore 2012 - 70% Cabernet Sauvignon 10% Cabernet Franc 10% Petit Verdot 10% Merlot

$175

Bin 1066 Podere Sapaio 'Sapaio' Superiore 2013 - 70% Cabernet Sauvignon 10% Cabernet Franc 10% Petit Verdot 10% Merlot

$170

Bin 1041 Podere Sapaio 'Sapaio' Superiore 2015 - 70% Cabernet Sauvignon 10% Cabernet Franc 10% Petit Verdot 10% Merlot

$165

Bin 993 Colle Massari Grattamacco Bolgheri Superiore 2006 - 60% Sangiovese 20% Cabernet Sauvignon 20% Merlot

$273

Bin 964 Castello di Ama l'Apparita Merlot 1998 - 100% Merlot

$340

Bin 965 Castello di Ama l'Apparita Merlot 2006 - 100% Merlot

$280

Bin 937 Tenuta Sette Ponti Oreno 2010- 50% Merlot 40% Cabernet Sauvignon 10% Petit Verdot

$285

Bin 938 Tenuta Sette Ponti Oreno 2011- 50% Merlot 40% Cabernet Sauvignon 10% Petit Verdot

$275

Bin 939 Tenuta Sette Ponti Oreno 2012- 50% Merlot 40% Cabernet Sauvignon 10% Petit Verdot

$265

Bin 936 Tenuta Sette Ponti Oreno 2013- 50% Merlot 40% Cabernet Sauvignon 10% Petit Verdot

$260

Bin 940 Tenuta Sette Ponti Oreno 2014 - 50% Merlot 40% Cabernet Sauvignon 10% Petit Verdot

$255

Bin 973 Tenuta Sette Ponti Oreno 2015 - 50% Merlot 40% Cabernet Sauvignon 10% Petit Verdot

$245

Bin 975 Castello dei Rampolla "D'Alceo" 2001 - 85% Cabernet Sauvignon 15% Petit Verdot

$620

Bin 976 Castello dei Rampolla "D'Alceo" 2004 - 85% Cabernet Sauvignon 15% Petit Verdot

$620

Bin 980 Antinori Tignanello 2000 (3.0 liter) - 80% Sangiovese 15% Cabernet Sauvignon 5% Cabernet Franc

$1,200

Bin 981 Antinori Tignanello 2005 (3.0 liter) - 80% Sangiovese 15% Cabernet Sauvignon 5% Cabernet Franc

$1,100

Bin 984 Antinori Solaia 2003 - 75% Cabernet Sauvignon 20% Sangiovese 5% Cabernet Franc

$620

Bin 985 Antinori Solaia 2004 - 75% Cabernet Sauvignon 20% Sangiovese 5% Cabernet Franc

$600

Bin 996 Le Macchiole "Scrio" 2005 - 100% Syrah

$525

Bin 997 Le Macchiole "Scrio" 2006 - 100% Syrah

$500

Bin 998 Le Macchiole Messorio 2002 - 100% Merlot

$670

Bin 999 Le Macchiole Messorio 2003 - 100% Merlot

$660

Bin 1000 Le Macchiole Messorio 2004 - 100% Merlot

$650

Bin 1001 Le Macchiole Messorio 2008 - 100% Merlot

$600

Bin 1002 Tua Rita Redigaffi 2005 - 100% Merlot

$660

Bin 1003 Tua Rita Redigaffi 2006 - 100% Merlot

$650

Bin 1004 Tua Rita Redigaffi 2007 - 100% Merlot

$640

Bin 1005 Tenuta dell'Ornellaia 1994 - 65% Cabernet Sauvignon 30% Merlot 5% Cabernet Franc

$900

Bin 1007 Tenuta dell'Ornellaia 2003 - 60% Cabernet Sauvignon 15% Merlot 20% Cabernet Franc 5% Petit Verdot

$760

Bin 1008 Tenuta dell'Ornellaia 2005 - 60% Cabernet Sauvignon 22% Merlot 14% Cabernet Franc 4% Petit Verdot

$740

Bin 1009 Tenuta dell'Ornellaia 2008 - 54% Cabernet Sauvignon 27% Merlot 16% Cabernet Franc 3% Petit Verdot

$700

Bin 1010 Tenuta dell'Ornellaia 2009 - 52% Cabernet Sauvignon 22% Merlot 21% Cabernet Franc 5% Petit Verdot

$690

Bin 1011 Tenuta dell'Ornellaia 2011 - 51% Cabernet Sauvignon 32% Merlot 11% Cabernet Franc 6% Petit Verdot

$680

Bin 1012 Tenuta dell'Ornellaia 2012 - 56% Cabernet Sauvignon 27% Merlot 10% Cabernet Franc 7% Petit Verdot

$670

Bin 1043 Tenuta dell'Ornellaia 'Le Serre Nuove' 2015 - 64% Merlot 17% Cabernet Sauvignon

$180

BIn 1050 Tenuta dell'Ornellaia 'Le Volte' 2016 - 67% Merlot 20% Cabernet Sauvignon 13% Sangiovese

$88

Bin 1014 Tenuta dell'Ornellaia Masseto 2005 - 100% Merlot

$1,375

Bin 1016 Tenuta dell'Ornellaia Masseto 2007 - 100% Merlot

$1,325

Bin 1017 Tenuta dell'Ornellaia Masseto 2008 - 100% Merlot

$1,300

Bin 1018 Tenuta dell'Ornellaia Masseto 2009 - 100% Merlot

$1,275

Bin 1019 Tenuta dell'Ornellaia Masseto 2010 - 100% Merlot

$1,250

Bin 1020 Tenuta San Guido Sassicaia 1980 - 85% Cabernet Sauvignon 15% Cabernet Franc

$1,800

Bin 1021 Tenuta San Guido Sassicaia 1985 - 85% Cabernet Sauvignon 15% Cabernet Franc

$4,800

Bin 1022 Tenuta San Guido Sassicaia 1994 - 85% Cabernet Sauvignon 15% Cabernet Franc

$1,350

Bin 1023 Tenuta San Guido Sassicaia 1998 - 85% Cabernet Sauvignon 15% Cabernet Franc

$1,200

Bin 1025 Tenuta San Guido Sassicaia 2001 - 85% Cabernet Sauvignon 15% Cabernet Franc

$900

Bin 1026 Tenuta San Guido Sassicaia 2002 - 85% Cabernet Sauvignon 15% Cabernet Franc

$780

Bin 1027 Tenuta San Guido Sassicaia 2003 - 85% Cabernet Sauvignon 15% Cabernet Franc

$770

Bin 1029 Tenuta San Guido Sassicaia 2005 - 85% Cabernet Sauvignon 15% Cabernet Franc

$750

Bin 1031 Tenuta San Guido Sassicaia 2007 - 85% Cabernet Sauvignon 15% Cabernet Franc

$725

Bin 1033 Tenuta San Guido Sassicaia 2009 - 85% Cabernet Sauvignon 15% Cabernet Franc

$695

Bin 1053 Tenuta San Guido Sassicaia 2013 - 85% Cabernet Sauvignon 15% Cabernet Franc

$665

Bin 1036 Tenuta San Guido Sassicaia 2014 - 85% Cabernet Sauvignon 15% Cabernet Franc

$655

Bin 1039 Tenuta San Guido Sassicaia 2015 - 85% Cabernet Sauvignon 15% Cabernet Franc

$640

Bin 1040 Tenuta San Guido Sassicaia 2016 - 85% Cabernet Sauvignon 15% Cabernet Franc

$630

Bin 967 Tenuta San Guido Le Difese 2016 - 70% Cabernet Sauvignon 30% Sangiovese

$105

Bin 1037 Tenuta San Guido Sassicaia 2004 (1.5 Liter) - 85% Cabernet Sauvignon 15% Cabernet Franc

$1,600

Bin 1038 Tenuta San Guido Sassicaia 2006 (1.5 Liter) - 85% Cabernet Sauvignon 15% Cabernet Franc

$1,400
Trentino - Alto Adige
Bin 1147 Dipinti Pinot Noir 2017 - 100% Pinot Noir

$42

Bin 1143 Cantina Andriano Südtirol Alto Adige Pinot Noir 2017 - 100% Pinot Noir

$56

Bin 1146 Foradori Teroldego 2016 - 100% Teroldego

$64
Umbria
Bin 1194 Arnaldo Caprai Montefalco Rosso 2015 - 70% Sangiovese 15% Sagrantino 15% Merlot

$47

Bin 1195 Arnaldo Caprai Sagrantino di Montefalco Collepiano 2013 - 100% Sagrantino

$105

Bin 1191 Paolo Bea Montefalco Sagrantino Secco "Vigneto Pipparello" Riserva 2011 - 60% Sangiovese

$179

Bin 1192 Paolo Bea Montefalco Sagrantino Secco "Vigneto Pagliaro" 2011 - 100% Sagrantino

$227

Bin 1193 Paolo Bea Montefalco Sagrantino Secco "Vigneto Cerrete" 2009 - 100% Sagrantino

$355

Bin 1189 Paolo Bea Montefalco Sagrantino Secco "Vigneto Cerrete" 2010 - 100% Sagrantino

$347
Valle D'Aosta
Bin 1226 Les Cretes Pinot Noir 2016 - 100% Pinot Noir

$52
Veneto
Bin 1294 Il Giro Cabernet Sauvignon 2017 - 100% Cabernet Sauvignon

$35

Bin 1243 Allegrini Valpolicella 2015 - 65% Corvina Veronese 30% Rondinella 5% Molinara

$40

Bin 1279 Buglioni Valpolicella Classico Superiore L'Imperfetto 2015 - Corvina, Rondinella, e Molinara

$40

Bin 1240 Zýmē Valpolicella Reverie 2016 - 40% Corvina 30% Corvinone 25% Rondinella 5% Oseleta

$47

Bin 1246 Zeni Costalago Veronese 2014 - 70% Corvina e Corvinone 15% Merlot 15% Cabernet

$50

Bin 1284 Mazzi Valpolicella "Cru Poiega" 2015 - 70% Corvina e Corvinone 20%

$70

Bin 1248 Allegrini La Poja 1997 - 100% Monovitigno di Corvina Veronese

$510

Bin 1249 Allegrini La Poja 2000 - 100% Monovitigno di Corvina Veronese

$485

Bin 1250 Allegrini La Poja 2001 - 100% Monovitigno di Corvina Veronese

$470

Bin 1251 Allegrini La Poja 2003 - 100% Monovitigno di Corvina Veronese

$420

Bin 1252 Dal Forno Romano Superiore Valpolicella 2002 - 70% Corvina/Corvinone

$330

Bin 1253 Dal Forno Romano Superiore Valpolicella 2005 - 70% Corvina/Corvinone

$300

Bin 1254 Dal Forno Romano Superiore Valpolicella 2008 - 70% Corvina/Corvinone

$270

Bin 1255 Dal Forno Romano Superiore Valpolicella 2009 - 70% Corvina/Corvinone

$260

Bin 1256 Dal Forno Romano Superiore Valpolicella 2010 - 70% Corvina/Corvinone

$250

Bin 1268 Dal Forno Romano Superiore Valpolicella 2011 - 70% Corvina/Corvinone

$240

Bin 1245 Dal Forno Romano Superiore Valpolicella 2012 - 70% Corvina/Corvinone

$230

Bin 1247 Antonio Gaudioso Amarone della Valpolicella 2014 - Corvina, Rondinella, e Molinara

$70

Bin 1263 Terre di Bo Amarone della Valpolicella 2014 - Corvina, Rondinella, e Molinara

$77

Bin 1257 Zardini Amarone della Valpolicella Classico 2013 - Corvina, Rondinella, e Molinara

$80

Bin 1264 Zeni Amarone della Valpolicella Classico 2015 - Corvina, Rondinella, e Molinara

$84

Bin 1270 Tenuta Sant'Antonio Amarone della Valpolicella Selezione Antonio Castagnedi 2015

$117

Bin 1277 Buglioni Amarone della Valpolicella Classico 2013 - Corvina, Rondinella, e Molinara

$140

Bin 1287 Masi Serego Alighieri Vaio Amarone della Valpolicella Classico 2009 - Corvina, Rondenella, Molinara

$137

Bin 1272 Masi Campolongo Amarone della Valpolicella Classico 2009 - Corvina, Rondenella, Molinara

$361

Bin 1271 Masi Mazzano Amarone della Valpolicella Classico 2009 - Corvina, Rondenella, Molinara

$404

Bin 1258 Allegrini Amarone 1997 - 80% Corvina 15% Rondinella 5% Oseleta

$490

Bin 1259 Allegrini Amarone 2000 - 80% Corvina 15% Rondinella 5% Oseleta

$475

Bin 1260 Allegrini Amarone 2001 - 80% Corvina 15% Rondinella 5% Oseleta

$469

Bin 1261 Allegrini Amarone (9 Liter) 2001 - 75% Corvina 20% Rondinella 5% Molinara

$2,900

Bin 1265 Dal Forno Romano Amarone della Valpolicella 2006 - 60% Corvina

$600
PROSECCO, CHAMPAGNE, FRANCIACORTA
Bin 1301 Bisol Jeio N/V Prosecco (Veneto) - 100% Glera

$35

Bin 1305 Methius Brut 2001 - 60% Chardonnay 40% Pinot Nero

$100

Bin 1306 Moet & Chandon Imperial - 100% Pinot Noir

$115

Bin 1307 Henriot Brut Souverain N/V - 60% Pinot Noir 40% Chardonnay

$120

Bin 1310 Gosset Grande Reserve N/V - 46% Chardonnay 39% Pinot Noir 15% Pinot Meunier

$120

Bin 1313 Ca'del Bosco Franciacorta Cuvee Prestige N/V - 75% Chardonnay 15% Pinot Nero 10% Pinot Bianco

$102

Ca'del Bosco Cuvee Annamaria Clementi 2004 - 55% Chardonnay 25% Pinot Blanc 20% Pinot Noir

$180

Bin 1321 L'Encry Champagne Brut Rose N/V - 95% Chardonnay 5% Pinot Noir

$190

Bin 1316 Domaine Marc Morey Chassagne-Montachet 1er Cru Les Chenevottes 2013 - Chardonnay $

$210

Bin 1319 Moet & Chandon Dom Perignon 2006 - Chardonnay, Pinot Noir, Pinot Meunier

$320

Bin 1314 Moet & Chandon Dom Perignon 2002 - Chardonnay, Pinot Noir, Pinot Meunier

$400
Bin 288 Coppo Moncalvina Moscato d'Asti 2017 (Piemonte) 750ml - 100% Moscato

$42

Bin 1330 Oddero Moscato d'Asti 2013 (Piemonte) 750ml - 100% Moscato

$36

Bin 1347 Bera Brachetto 2016 (Piemonte) 375ml - 100% Brachetto

$25

Bin 1332 Cerruti Sol 2006 (Piemonte) 375ml - 100% Moscato Bianco

$85

Bin 1342 Poggio Salvi Vin Santo 2006 (Toscana) 375ml - 60% Trebbiano 40% Malvasia

$115

Bin 1334 La Roncaia Ramondolo 2006 (Friuli) 375ml - 100% Verduzzo

$117

Bin 1336 La Roncaia Picolit 2008 (Friuli) 375ml - 100% Picolit

$132

Bin 1337 Pala Assoluto 2008 (Sardegna) 500ml - 80% Nasco 20% Vermentino

$150

Bin 1338 Livio Felluga Picolit 2008 (Friuli) 375ml - 80% Nasco 20% Vermentino

$160

Bin 1339 Paolo Bea Montefalco Sagrantino Montefalco Passito (Umbria) 375ml - 100% Sagrantino $

$175

Bin 1340 Avignonesi Vin Santo 1998 (Toscana) 375ml - Trebbiano, Malvasia $

$295

Bin 1341 Avignonesi Vin Santo Occhio di Pernice 1998 (Toscana) 375ml - 100% Sangiovese

$375
Bin 306 Oddero Barolo "Villero" 2007 1.5L - Piemonte

$408

Bin 823 Tenuta Terre Nere Etna Rosso "Feudo di Mezzo" 2016 (1.5 Liter) - Sicilia

$192

Bin 821 Tenuta Terre Nere Etna Rosso "San Lorenzo" 2016 (1.5 Liter) - Sicilia

$260

Bin 1360 Elio Altare Barolo "Cerretta" 2006 (1.5 Liter) - Piemonte

$480

Bin 115 Galardi Terra di Lavoro 2006 (1.5 Liter) - Campania

$630

Bin 1013 Tenuta dell'Ornellaia 2006 (1.5 Liter)-Toscana

$900

Bin 1037 Tenuta San Guido Sassicaia 2004 (1.5 Liter)-Toscana

$1,600

Bin 1038 Tenuta San Guido Sassicaia 2006 (1.5 Liter)-Toscana

$1,400

Bin 980 Antinori Tignanello 2000 (3.0 Liter)-Toscana

$1,200

Bin 981 Antinori Tignanello 2005 (3.0 Liter)-Toscana

$110

Bin 1261 Allegrini Amarone 2001 (9 Liter)-Veneto

$2,900